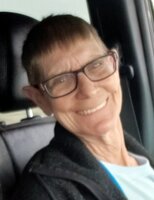 Sharon Marie Pickering
Mechanicsville, Iowa
Sharon Marie Pickering, 67, passed away November 15, 2022 at her home in Mechanicsville surrounded by her family.
A memorial visitation will be held Saturday, November 19, 2022 from 1to 4 P.M. at the Mechanicsville Fire Station. A memorial fund has been established. Online condolences may be made to the family at www.hendersonbarkerfuneralhome.com. The Henderson-Barker Funeral Home in West Branch is caring for Sharon's family.
Sharon was born May 2, 1955 in Cedar Rapids the daughter of Russell and Joan (Stanton) Moravek. She was a graduate from Lincoln Community High School (Mechanicsville/Stanwood) in the class of 1973. She later completed her CNA training and was also an EMT. On July 26, 1986 she was united in marriage to Doyle Pickering in Van Horne, Iowa. She was a member of the Van Horne First Responders before moving to Mechanicsville in 1991 and joining the Mechanicsville Fire Department working with the ambulance as an EMT for 7 years. She had been employed with K-Mart, NCS and most recently Walmart in Tipton until her health would no longer allow her to do so. She and Doyle were members of the Patriot Guard Riders.
Sharon is survived by her husband Doyle of Mechanicsville, five children: Andrea (Scott McBride) Pickering of Holbrook, New York, Jarrod (Julie) Pickering of Currituck, North Carolina, Scott (Ashlee Phillips) Pickering of Mahomet, Illinois, Jason Pickering of Mesa, Arizona and Amber (DeCoda Garrison) Pickering of Cedar Rapids, eight grandchildren: Emily, Spencer, Jackson, Nikolas, Duane, Holden, Trey, Greyson, Megan, Jessica, Braydon, Kayzlie and Hunter. Also surviving is her Mother Joan Moravek of Mechanicsville, 4 siblings: Ronald (Julie) Moravek of Iowa Falls, Mary Kathryn Moravek of North Liberty, Robert (Tammy Klinkkammer) Moravek of Mechanicsville and Denise (Richard) Konigsmark of Blairstown. And many wonderful nieces and nephews. She was preceded in death by her father Russell, Brother Steven and Sister Dianne Moravek.