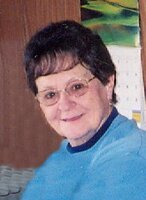 Orma Darleen Heick
West Liberty, Iowa
Orma D. Heick, 87, passed away Sunday, November 6, 2022 at the Simpson Memorial Home in West Liberty.
A celebration of life memorial visitation will be held from 4 to 6 P.M. Friday, November 18, 2022 at the West Liberty Country Club, 1248 Country Heights Lane, West Liberty. Private family inurnment will be held in the Oak Ridge Cemetery, West Liberty.
Memorials may be made to West Liberty Fire and EMS Association.
Orma Darleen was born January 9, 1935 the daughter of William Leslie and Mary Orma (Dalton) Chelf. She was a graduate of West Liberty High School in the class of 1954 and had been a player on the team who had two appearances at the Iowa State Women Basketball tournament. On October 12, 1955 she was united in marriage to Ronald Heick in West Liberty.
Orma had been employed with the West Liberty State Bank, Casey's and at the Muscatine County Fairground. She was an Iowa Hawkeye Fan and enjoyed all sports, drinking coffee and visiting about the old days.
She is survived by her husband Ron, two children: Randy Heick and Dean (Mindy) Heick all of West Liberty, 3 grandchildren: Jobe Heick of Cedar Rapids, Clay (Audra) Heick of West Liberty and Troy (Mikayla) Heick of West Liberty. She is also survived by special friends Denise Lenz and Sue Kirchner as well as several nieces and nephews. She was preceded in death by her parents, a sister Dorothy and a brother Don.