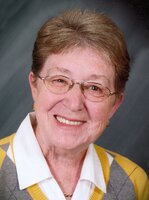 Catharine Ann Leggins
Moscow, Iowa
Catharine Ann Leggins, 82, passed away Thursday, November 3, 2022 at her home in Moscow.
No services are planned.
Inurnment will take place at a later date in the Oakdale Cemetery, Wilton.
Memorials may be made to: It takes a Village Animal Rescue & Resources in Muscatine
Catharine was born October 25, 1940 in Muscatine County the daughter of John S. and Juanita (Maurer) Smith. She was a graduate of Wilton High School in 1959. On October 28, 1960 she was united in marriage to George Leggins in Wilton.
For several years Catharine had been employed with the Moscow Post Office, later at Tri-Co in Wilton and Pioneer in Durant. She was a member of the Moscow United Methodist Church and Stitch and Bitch Club.
She is survived by her husband George of Moscow, two children: Jerry (Siara) Leggins of West Liberty and Jennifer (Patrick) Willson of Wilton, one brother Doug (Connie) Smith of Muscatine as well as four grandchildren: Zoey Grunder, Ellie Grunder, Alex Torres and Samantha Leggins. She was preceded in death by her parents, four brothers: Jerry, Joe, Bob and Bill and a sister Mary Laucamp.