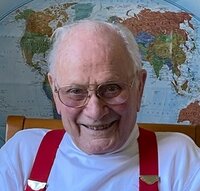 Hermann Boedeker
Hermann Boedeker, 90, formerly of West Branch, Iowa, passed away Saturday, October 29, 2022 at Oaknoll Retirement Residence, Iowa City, Iowa. He was preceded in death by his wife, Elsa, the love of his life.
Hermann, son of Dr. Anton and Berta Boedeker, was born February 6, 1932 in Nordhausen, Germany. He immigrated to Canada in 1953 where he worked in Agriculture. He was united in marriage to Elsa Bubenzer, also from Germany, on February 6, 1957 in Canada. They then immigrated to the USA in 1959 with their family and became US citizens in 1965. They raised their family in West Branch, Iowa, where they were members of Bethany Lutheran Church. Hermann was a proud American who loved his country and the State of Iowa. He often said that their hometown of West Branch was a wonderful place to raise a family.
Hermann was a proud employee of Oaknoll Retirement Residence, acting as head of facilities and grounds until his retirement in 1997. He was an avid reader and loved to travel and camp throughout the country with Elsa. They always marveled at the wonders of God's creation. Hermann had a great sense of humor and was always friendly and caring. In 2004, Hermann and Elsa moved to Oaknoll Retirement Residence in Iowa City.
Hermann is survived by their children Wolfgang (Cyndi), Sylvia, and Ralph (Allyson); grandchildren Marlise (Eduardo) Flores, Matthew, Rebecca (Peter) Delaney, Elizabeth (Joshua) Johnson, Rachel, and Ryan (Danielle); great granddaughters Itzel, Elena and Aurelia Flores, Harmony Boedeker, and Elanor Delaney; siblings Winfried and Laurenz Boedeker; and half-siblings Johannes Boedeker, Sabine Wagner, and Jeorg Boedeker. Hermann was preceded in death by his beloved wife Elsa, his parents Dr. Anton and Berta Boedeker, his siblings Monica Blanco and Esther Wallenfeld, and his granddaughter Sarah Boedeker.
In celebration of Hermann's life, a memorial service will be held at 10:30 AM, Saturday, November 12, 2022, at Bethany Lutheran Church, West Branch, Iowa. The service will be followed by a brief graveside service at the West Branch Cemetery, followed by a reception at Bethany Lutheran Church. Online condolences may be made to the family at www.hendersonbarkerfuneralhome.com. The Henderson-Barker Funeral Home in West Branch is caring for Hermann's family.