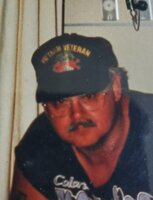 Dennis Wayne Penderson
West Liberty, Iowa
Dennis W. Penderson, 72, passed away Monday, June 27, 2022 at the University of Iowa Hospitals and Clinics in Iowa City.
Private family graveside services with military rites were held in the Oak Ridge Cemetery, West Liberty.
Dennis Wayne Penderson was born April 25, 1950 the son of Raymond and Tona Dale (White) Penderson. He was a graduate of West Liberty High School. Denny was a United States Marine serving two tours during the Vietnam War. In 1980 Dennis united in marriage to Nonie Zellmer, they later divorced.
Denny had been employed at Louis Rich Foods in West Liberty and CDS in Wilton.
He is survived by two daughters: Michelle Metzger of Altoona, Morgan Penderson of Des Moines and six grandchildren. Two brothers: Jim White and Ray Penderson as well as two sisters: Sandy Kilgore and Mary Titus. He was preceded in death by his parents and a son Derek on May 13, 2022, infant granddaughter Kenda Metzger and a brother Bobby Martin.