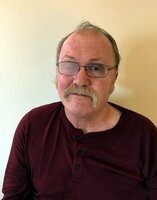 Larry Jay Shields
Larry Jay Shields, 73, passed away Monday, July 4, 2022 at the Simpson Memorial Home in West Liberty.
Larry's request was to be cremated and that no visitation or services to be held, he wanted to be remembered as he was.
Memorials for Larry may be made to Monica Shields, % Henderson-Barker Funeral Home, PO Box 46, West Liberty, Iowa 52776.
Larry was born March 29, 1949 the son of James H. Jr. and Helen (Dettman) Shields. Larry served in the US Navy during the Vietnam War. After returning from war, Larry worked at Clinton Corn for several months before attending Clinton Community College where he received is Associate in Applied Science Degree (Technical Drafting). On December 15, 1972 he was united in marriage to Monica Steines at Sacred Heart Catholic Church in Clinton.
Following his graduation from college, he worked in construction for a short time prior to accepting a position with Stanley Consultants. The family moved to Muscatine. Larry worked on hundreds of projects, both domestic and international, office and field-based, as well as working as a safety diver on underwater inspection projects. Larry retired in 2009 from Stanley Consultants after 35 years of service. He was a Certified Drafter with the American Design Drafting Association (ADDA) and a member of the ADDA Association. He was a past board member for Iowa Digital Design Engineering Applications (IDDEA).
Larry was very involved in Boy Scouts as an adult. He began his adult Scouting career with Troop 141 in West Liberty and served as an Assistant Scoutmaster for many years. He was a member of the Order of the Arrow and received the Silver Beaver in 2004. He held several positions with the District and Council.
Larry was a swim instructor at the Muscatine Community YMCA for many years. He enjoyed hiking, photography, crossword puzzles, working in the yard and garden, and going to Iowa women's basketball games. He loved spending time with his grandsons and grand-dog, Luna.
He is survived by his wife Monica Shields, three children: Mark Shields; Brian (Jamie) Shields and their sons, Harrison and Leo; and Rachel (Oscar) Trinidad and their son, Sammy. Three siblings: Terry (Penny) Shields, Sherry Ricklef, and Judy Graham (Kevin), Brothers in law and sister in law: Floyd (Renee) Steines, Agnes (Terry) Meeker, Jim (Ally) Steines as well as several nieces and nephews. He was preceded in death by: Father, James H. Shields, Jr.; Mother, Helen Fredericksen; Mother-in-law, Joan Smithers; and Father-in-law, Jack Smithers; and his grandparents.
Special thanks to the staff at Simpson Memorial Home for the care given to Larry; you are like a second family to us.