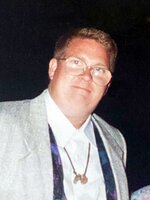 Jonathan "John" Holbrook
Jonathan "John" Adam Holbrook, 54, of Iowa City, IA, went home to be with the Lord on Tuesday, June 7th, 2022. John died suddenly and unexpectedly at home.
He was born May 11, 1968 in Iowa City to the late Reaves and Illene (Moore) Holbrook John was the eleventh of fourteen children.
John was an avid Hawkeye fan, loved cars, cooking, watching movies, but spending time with his nieces, nephews and great nieces and nephews was John's favorite. He had a huge heart and was a friend to all. John had a natural way of making everyone around him feel comfortable and never met someone that didn't leave as a friend. John lived all over the country throughout his years, always close to family. Upon his recent return to Iowa, he was employed with North Dodge Hy-Vee in Iowa City.
A celebration of life will be held Saturday, June 11, 2022 from 12pm-3pm at the Moose Lodge in Iowa City.
Surviving are his siblings and their families: Juanita (Joe), Norma, and Janie Tanner; Tammy (Jon), and Paul Obe; Tom (Kathy Dolan), Olivia, and Clayton Holbrook; Lindy Holbrook; Cyndi, David, and Sean Neal; Chris (Rosie) Holbrook; Nick(Denise), Macy, and Kinzee Holbrook; Missy Holbrook and Charles, Collin, Caleb, and Carter Clark; Amy (Bob), Zane, Blain, and Lane Jensen; Racheal, Tatum, Matthew, and Pam Hills; Mildred (Whitey), Greg and Brandon Feldman; Aaron, Hayden and Fallon Breckner; nieces Caullie Murphy, Elissa Holbrook, Rachel Short and Alyssa Holbrook; and sisters in law Jeri and Belen Holbrook.
He is preceded in death by his parents, Reaves and Illene Holbrook, and brothers James "Bo" Holbrook, Charles Walter Holbrook, Reaves Martin Holbrook and Paul Holbrook.