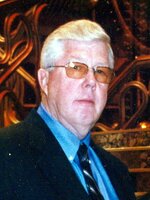 Joseph G. Adolphson
Iowa City, Iowa
Joe G. Adolphson, 85, passed away Monday, June 6, 2022 at the University of Iowa Hospitals and Clinics in Iowa City.
Private family services will be held with burial in the West Branch Cemetery.
Memorials may be made to West Branch Fire Department, West Branch Lions Club or Iowa City Hospice.
Joe Gustav Adolphson was born August 11, 1936 in Evanston, Illinois the son of Gustav and Sarah (Wroe) Adolphson. He was a graduate of West Branch High School in 1955. Joe had proudly served in the United States Army from 1955 until 1958. On July 26, 1958 he was united in marriage to Janice Gill in West Branch. Joe had been employed for 33 years with Proctor and Gamble in Iowa City, retiring in 1995.
Joe was an active and supportive community member whether it be in West Branch being a West Branch Bears Fan, West Branch Fire Department supporter to his friends and neighbors in the Wellington Condominium community. He enjoyed fishing, traveling with his wife Janice and the many winters they spent together in Mission, Texas. He was a collector of many things, coins, marbles, and any trinket that caught his eye.
He is survived by two sons: Curtis (Dee) Adolphson of Cedar Rapids and Alan (Melanie) Adolphson of Cincinnati, Ohio, two grandchildren: Jack and Jenna. He was preceded in death by his parents, wife Janice May 26, 2022, son Andy, two brothers Roger and Elof.