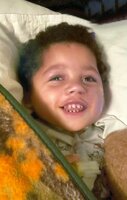 Caiden Lee Loehr
West Branch, Iowa
Caiden Lee Loehr, 6, passed away Monday, May 30, 2022 at his home.
Visitation will be held Thursday, June 2, 2022 at the Henderson-Barker Funeral Home in West Branch. A memorial fund has been established.
Caiden was born November 10, 2015 in Iowa City. He attended Hoover Elementary School in West Branch and recently graduating from Kindergarten. Caiden was sassy, full of life and loved by all.
He is lovingly survived by his mother Kimberly Loehr of West Branch, four siblings: Amari Diaz, E'Tayvion Litt, Sapphire Wild and Jimmy Wild, maternal grandmother: Karen Meyer of North Liberty, paternal grandmother: Cynthia Gathing of Davenport, paternal great grandmother: Brenda March Gathing of Davenport as well as several aunts, uncles and cousins. He was preceded in death by his grandfather Jeffery, great grandparents: Allen and Dorothy Loehr.