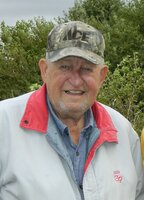 Gary H. Nealson
West Liberty, Iowa
Gary H. Nealson, 82, passed away Monday, February 21, 2022 at the Simpson Memorial Home in West Liberty.
A celebration of life will be held 1 P.M. Saturday, June 18, 2002 at the Community Center, 1204 North Calhoun St. West Liberty, Iowa. Inurnment will be in the North Prairie Cemetery, West Liberty. Online condolences may be made to the family at www.hendersonbarkerfuneralhome.com.
A memorial fund has been established with Montadale Sheep Breeders Association Endowment Fund. Checks may be made to: CFFSW, 610 Esther St. Suite 201, Vancouver, Washington 98660, Att: Deanna Green.
Gary was born January 4, 1940 in Iowa City, Iowa the son of Howard and Wilma (Roth) Nealson. He was a graduate of West Liberty High School in 1958 and attended Michigan State University Horseshoeing School. He worked as a ranch hand learning horse training in Kansas, lived in Texas and Oklahoma while participating on the rodeo circuit, and operated a training stable in Gilman, Iowa. In 1967 Gary returned to West Liberty to farm until 1987. After that he went on to work as a machinist, a carpenter, and at the University of Iowa in a number of capacities. He eventually joined the USDA as a food inspector until his retirement, and later worked at Ace Hardware during retirement.
On March 18, 1972 Gary was united in marriage to Connie Carey in West Liberty. They were married 41 years until her passing in 2013. Gary then went on to marry Jane Harrell on December 3, 2017 and they were married 3 years until Jane's passing last year.
In his early years Gary served as a state director of Iowa High School Rodeo Association, director of Mississippi Valley Quarter Horse Association, Mississippi Valley Pony Club and was a member of the West Liberty Jay-Cee's. He was a longtime member of the Hart- Parr Oliver Collector's Association, Montadale Sheep Breeder's Association and the Danish Brotherhood.
He is survived by his son Nathan (Kim) Nealson of Grimes, granddaughter Kinsey, sister Georgia Nealson of Boone, Iowa and brother David (Judie) Nealson of Monticello. Also surviving is a special aunt: Lucille, two brothers in law: Tom (Lucy) Carey, James Carey (significant other Candace Coberley), sister in law: Rebecca Wooge as well as many beloved cousins, nieces, nephews, friends and neighbors. He was preceded in death by his parents, wives: Connie and Jane, parents in law: John and Dorothy Carey and a brother in law James Wooge.