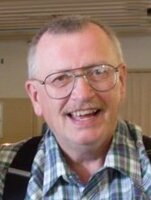 Patrick Donald Carter
Patrick Donald Carter, 72, passed away Tuesday, January 25, 2022 at the University of Iowa Hospitals and Clinics in Iowa City.
A Celebration of Life will be held from 11:00am – 3:00pm Saturday February 19, 2022 at the West Liberty Community Center.
Pat was born in Iowa City December 8, 1949, to Colleen and Donald Carter. He graduated from Lone Tree High School in May 1968. During his lifetime Pat farmed, worked for the University of Iowa and Schenker Logistics.
Pat is survived by 3 children: Josh, Jason and Darla; 4 grandchildren: Logan, Haley, Lily and Dalton; Longtime partner of over 20 years, Margaret Dalton and children: Dawn & Tim Schneider, Mike & Ann Crees, Kim Crees, Tammy McMichael and Shawn & Courtney Crees; grandchildren: Tiffany Paul, Ryne & Jill Paul, Jake, McKayla and Paige Crees, Kyle Fry, Christopher, Jacqueline and Nicholas McMichael and Kohlton & Hayley Kober, Logan, Austyn and Camden Crees; great grandchildren: Gabriel Garcia, Kylie Parker, Saylor and River Thompson; sister-in-law Janette Carter and his nieces and nephews.
He was preceded in death by his parents, sister Linda and brother Mike.