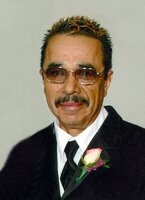 Israel Lujan Trevizo
West Liberty, Iowa
Israel Lujan Trevizo Sr., 72, passed away Wednesday, January 19, 2022 at his home in West Liberty.
Visitation will be held 9:30 until 11 A.M. Monday, January 24, 2022 at St. Joseph Catholic Church in West Liberty with mass to be held immediately following at 11. Burial will be in the Oak Ridge Cemetery, West Liberty. Memorials may be made to St. Croix Hospice. Online condolences may be made to the family at www.hendersonbarkerfuneralhome.com.



Israel was born September 23, 1949 in Pena Blanca, Chihuahua Mexico the son of Alfonso and Guadalupe (Lujan) Trevizo. He moved to the United States, after making several moves settled in West Liberty. On February 24, 1978 he was united in marriage to Sheryl Leeper in Cedar Rapids, Iowa. Israel had been employed with Louis Rich Foods in West Liberty, Quality Care, Iowa City,  retiring from Alpla in Iowa City. He enjoyed fishing, gardening and more than anything he loved his family and enjoyed spending time with his grandchildren. 
Survivors include his wife Sheryl of West Liberty, two children: Carla (Caleb) Shield of West Liberty and Israel Jr. (Rachel) Trevizo of North Liberty, five grandchildren: Pierre, Penelope and Palmer Shield, Oliver and Sullivan Trevizo, brother Manuel Trevizo of West Liberty and sister Lupe (Michael) Mitchell of Osceola, Iowa. Also surviving is a brother in law: Jonts (Louise) Leeper of Cedar Rapids and two nephews: Manuel Trevizo Jr, of Iowa City and Ron Leeper of Cedar Rapids. He was preceded in death by his parents, sister: Socorro and brother in law: Ron Leeper.