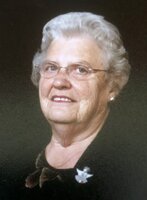 Dolores Mae Wagner
Dolores Mae Wagner passed away Sunday, January 2nd at Crestview Specialty Care Center in West Branch after a brief illness.
As the matriarch of her family, life without her is unimaginable. If you needed support, no one could be more supportive. If you needed advice or words of encouragement, Dolores was the one to seek out. She always found time for you. If you were in trouble or needed something, she was always the first one there--- along with her husband Al. We thank God she was our Mother, our best friend, and life's coach.
Dolores Mae Worrell was born on April 11, 1935 to Joseph and Margaret (Dvorsky) Worrell just north of St. Bridget's Church, Nolan Settlement. She had two older siblings, Ralph Worrell and Dorothy Worrell (Johnson- Platteter). Dolores attended country school with her sister Dorothy as her teacher. Her brother Ralph filled the shoes of her father after he passed away when she was only three years old. Ralph was a wonderful brother.
Dolores graduated from West Branch High School in 1953 and married Albert Wagner on September 14, 1954. She held a full-time job as a telephone operator at Northwestern Bell in Iowa City after high school, retiring after 30 years in 1984. Dolores had many hobbies, and especially enjoyed crocheting and gardening. She always had a huge garden, striving to can 100 quarts each of beans, corn, tomatoes and fruit each season. Once the grandchildren came, she and her husband dedicated their time and energy to those souls. Always quick-witted, on more than one occasion Dolores mentioned that she loved spending time with her grandkids more than her own children. She adored them and they continue to adore her. Spending holidays and special occasions with the entire family was one of Dolores' greatest joys.
Dolores was preceded in death by her parents, her husband, her siblings and many, many dear friends. She leaves her three children: Debbie (Jim) Joens of West Branch, Joe (Michelle) Wagner, Solon, and John (Deb) Wagner of Geneseo, IL. She is also survived by her grandchildren: Nikki Koch (West Branch), Jamie Schuur (Ely), Cody Joens (Ely), Jake Joens (Tiffin), Tanya Wagner (West Branch), Jeff Wagner (Denver, CO), Jordan Harris (Dallas, TX), great-grandchildren Maddyson Koch, Gracey Wagner, and Rowdy Rood, all of West Branch, many special nieces and nephews, and her faithful four-legged companion, Bailey.
Dolores was a member of the Downey Baptist Church for over 50 years, serving the church in many capacities. She had an unwavering faith and was an example to all who knew her. If you had made her acquaintance for only five minutes, her beliefs and testimony were sure to come up. As a good friend commented, God greeted her and said "well done." Truer words have never been spoken.
A Celebration of Life will be held at a later date. In lieu of flowers, donations can be made in Dolores' name to the Downey Baptist Church and the West Branch Fire Department.