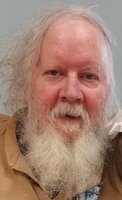 Mike Nortman
Mike Nortman, 70, of Muscatine passed away Tuesday, December 21 after a brief illness.
He was born and raised in West Liberty, the son of Charlie and Leota Nortman. While attending West Liberty schools he could be seen around the community delivering newspapers, and in high school he could be found on the golf course. One of his golf highlights was winning the West Liberty Country Club annual tournament.
Shortly after high school he joined the United States Air Force and served three years. Upon his return to the area he attended Muscatine Community College and worked at Rohner Machine Works for a number of years.
Mike is survived by five siblings and one sister-in-law: John (Carol) Nortman of Ballwin, Missouri; Andrea Christensen of Iowa City; Karen Nortman of West Liberty, Dan (Ann) Nortman of Lincoln, Nebraska; Harriet (Ken) Hald of West Liberty, and Mary (Leon) Larson of West Liberty. He was preceded in death by his parents, Charles and Leota Nortman, and one brother, Butch Nortman, all of West Liberty, one brother-in-law, Allen Christensen of Iowa City, and a long-time friend and companion, Jenny French of Muscatine.
Family will gather privately at the Henderson Barker Funeral Home on Thursday, December 23rd at 1:00pm. Friends are welcome to join the family graveside at 1:45pm at the Mt. Calvary Cemetery in rural West Liberty. Online condolences may be made to the family at www.hendersonbarkerfuneralhome.com.