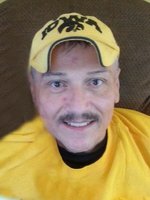 William James "B.J." Henderson Jr.
Tipton, Iowa
William J. "B.J. the DJ" Henderson Jr., 50, passed away Friday, April 13, 2018 at the University of Iowa Hospitals and Clinics in Iowa City.
Funeral services will be held 10:30 A.M. Wednesday, April 18, 2018 at the Henderson-Barker Funeral Home in West Liberty. Visitation will be held 2 to 6 P.M. Tuesday at the Funeral Home. Burial will be in the North Prairie Cemetery, West Liberty. Online condolences may be made to the family atwww.hendersonbarkerfuneralhome.com. A memorial fund has been established.
B.J. was born November 29, 1967 in Iowa City, Iowa the son of William and Francis (Pigsley) Henderson. He attended West Liberty High School. On one of the coldest days, December 16, 1989 he was united in marriage to Jennifer Gravert in Muscatine. B.J. was a jack of all trades, being employed as a full time and volunteer fire fighter, diesel mechanic, welder and as B.J. the D.J. He was active in Boy Scouts attaining the rank of Eagle Scout in 1982, enjoyed trapping, hunting and fishing with his father and cousins, stock car races and gatherings with his family.
Survivors include his wife of 28 years, Jennifer Katherine Henderson of Tipton, three children: Jacob Isaac (Jenna Nicole) Henderson of Muscatine, Veronica Dawn (Wyatt Scot) Blake of Wapello and Vanessa Noel (Anthony Sergio Pestle) Henderson of Muscatine, two granddaughters: Izabel Rose and Chloe Kate. Father William James Henderson Sr. of West Liberty, sisters: Deborah Diane (James) Birdsong of Eldon, Missouri, and Angela Dee Henderson of Wilton. Father and Mother in law: John B. and Sharon L. Gravert of Tipton. Also surviving are many uncles, aunts, nieces, nephews, cousins and in-laws. He was preceded in death by his mother Francis Irene Henderson and his long time companion Gus.