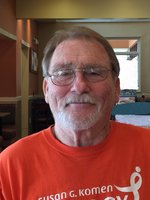 Jim Weese
Rochester, Iowa
James "Jim" Weese, 68, of Joplin, Missouri and formerly of Rochester, passed away Thursday, April 5, 2018 at Mercy Hospital in Joplin, Missouri.
Funeral mass will be held 10:30 A.M. Monday, April 16, 2018 at St. Bernadette Catholic Church in West Branch. A memorial visitation will be held Sunday from 2 to 5 P.M. at the Henderson-Barker Funeral Home in West Branch. A memorial fund has been established. Online condolences may be made to the family at www.hendersonbarkerfuneralhome.com. Inurnment will be in the Rochester Cemetery.
Jim was born January 2, 1950 the son of Clovis Weese in Cambridge, Nebraska. He attended Cambridge High School. During the Vietnam Era Jim served with the US Army stationed at Ft. Riley, Kansas. Following the marriages of Connie, Judy he most recently was united to Martha Idlewine Freeman on November 4, 2001 at St. Bernadette Church in West Branch. Jim was an over the road semi driver for many years.
Being a grandfather was what Jim did best. He rejoiced in the role, making them happy was his priority. Love, candy, a listening ear, and McDonalds were ever present when Papa was around. As an avid animal lover he took in many rescue dogs and cats giving them the life of comfort they deserved. He was met by many friends on the Rainbow Bridge.
Survivors include his wife Martha Freeman of Joplin, Missouri. Three children: Melinda (Jimmy) Wetterich of Delta, Colorado, Seth Weese of Rochester, Iowa and Taryn Freeman and her partner Loni Smith of Joplin, Missouri, four grandchildren: Justin Wetterich, Andrea Vincent, Karma Sizemore and Kynsley Freeman. He is also survived by two brothers: Bill (Roxanne) Dewey and George (Michelle) Dewey all of Thornton, Colorado. He was preceded in death by his mother, a daughter Jeanie Vincent, grandmother Freda Everetson, and two aunts Barb Besler and Janice Breinig.