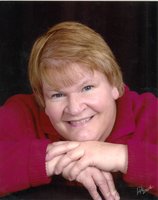 Patricia L Webb
Patricia (Pat) L Webb, age 63 died February 2, 2018 at St Anthony Regional Hospital in Carroll, Iowa, with her sister-in-law Joyce by her side after a brave battle with cancer.
A memorial service will be held at 10:30 AM Saturday, February 10, 2018 at the First Church United in West Liberty, Iowa. Visitation will be held from 9:30 AM Saturday to the time of the service. Burial will be at the Oak Ridge Cemetery, in West Liberty, Iowa. The Henderson-Barker Funeral Home in West Liberty is in charge of arrangements. Online condolences may be made to the family at www.hendersonbarkerfuneralhome.com.
Pat was born April 21, 1954 in Iowa City, Iowa, the daughter of William and Mary Josephine (Ohlwein) Webb. She graduated from West Liberty High School in 1973 and attended Kirkwood Community College, graduating in 1976 with an Associate of Arts degree as a Certified Occupational Therapy Assistant. Pat began her career in St. Louis, Missouri where she worked for seven years. She moved to Denver, Colorado in 1986. The majority of her career was spent working with the geriatric community. She loved her work with the elderly and was an advocate on issues like elder abuse and Medicare changes. She also taught at Arapahoe Community College for several years and has received many awards for her contributions to the Occupational Therapy profession in Colorado. Pat moved back to Iowa in June 2016 to be closer to family.
She was a member of the First Presbyterian Church of Englewood, Colorado, where she served the church as a deacon.
Pat's hobbies included baking goodies for friends and family, reading, making her own greeting cards with stamps or photographs she had taken, traveling and spending time with her family and friends.
Survivors include her brother, Richard Webb and wife, Joyce of Coon Rapids, Iowa. Her niece Jessica Dowell and husband Jesse, of Johnston, Iowa. A nephew, Alex Webb of Clive, Iowa. Two great-nephews, Tyson Dowell and Finn Dowell.
She was preceded in death by her parents and her maternal and paternal grandparents.
Memorial donations may be made to First Church United, 1100 N Calhoun, West Liberty, IA or to a charity of the donor's choice in memory of Pat.