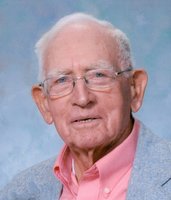 Harold H. Wilkerson
West Liberty, Iowa
Harold Hunt "Junior" Wilkerson, 94, passed away Monday, January 29, 2018 at Mercy Hospital in Iowa City.
Funeral service will be held 11 A.M. Friday, February 2, 2018 at the First Church United in West Liberty. Visitation will be Thursday from 4 to 7 P.M. at the First Church United, 1100 North Calhoun St., West Liberty. Burial will be in the North Prairie Cemetery, West Liberty. A memorial fund has been established. Online condolences may be made to the family at www.hendersonbarkerfuneralhome.com.
Harold was born August 31, 1923 near West Branch, Iowa the son of Harold H. and Ruth Elizabeth (Nevins) Wilkerson. He was a graduate of West Liberty High School in the class of 1941. On March 21, 1954 he was united in marriage to Evelyn Lehman at First United Methodist Church in Iowa City. Harold and Evelyn farmed until 1974, and from 1974 until 1979 he was employed at Louis Rich Foods. In 1979 he, Evelyn and Son, Gene began Wilkerson Drainage and he continued as a part of the business until he was 90, "keeping tabs" on the happenings thereafter. Harold and Evelyn wintered and enjoyed their time in Mesa, Arizona for over 30 years.
He was a member of the First Church United, enjoyed reading and began polka dancing at age 65. Harold's faith, home and family were most important to him.
Survivors include his wife Evelyn, two children: Gene (Lois) Wilkerson of West Liberty and June Wilkerson of North Liberty and her special friend Doug Anderson. Three grandchildren: Matthew (Alina) Forbis, Hunt Wilkerson and Jennifer Wilkerson. He was preceded in death by his parents and a brother Hugh.