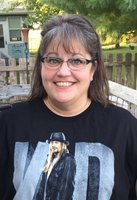 Shelly Neumann
West Liberty, Iowa
Shelly Neumann, 53, of West Liberty and formerly of West Branch passed away suddenly Thursday, January 25, 2018 at Mercy Hospital in Iowa City.
Services celebrating Shelly's life will be held 10:30 A.M. Monday, January 28, 2018 at the Henderson-Barker Funeral Home in West Branch. Visitation will be Sunday from 2 to 5 P.M. at the funeral home. Burial will be in the West Branch Cemetery. A memorial fund has been established. Online condolences may be made to the family at www.hendersonbarkerfuneralhome.com
Sharon Michelle "Shelly" was born September 30, 1964 in Monticello, Iowa the daughter of James and Esther (Hickey) Green. She was a graduate of West Branch High School in the class of 1983 and attended Sharon Duran School of Cosmetology in Iowa City. Following cosmetology school she earned her CNA while working at Crestview Care Center. She had worked for several salons; Blackstone, Crimpers Corner and operated Shelly's Hair Salon in West Branch. Shelly later was employed with Coralville Vision Center, Corridor Radiology and most recently at Mercy Hospital in the Radiology Dept.
On July 3, 1987 she was united in marriage to Joe Neumann in West Branch, they lived in West Branch for many years, moving to West Liberty 6 years ago. She enjoyed sewing and an occasional trip to the casino. Shelly was happiest when she was relaxing and spending time with her family and friends.
Survivors include her husband Joe of West Liberty, Son: Zak (Tabetha) Neumann of Iowa City. Two brothers: Daniel Hatfield of West Branch and Bill (Sheri) Hatfield of Monticello, sister Renee Olson of West Branch. She was preceded in death by her parents, daughter Britny, sisters: Pam Pedersen and Janet Oehler, brother: Michael "Mick" Hatfield, and brother and sister in law: Kenneth and Sandy Hatfield.