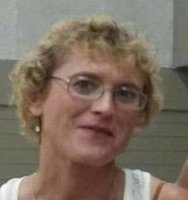 Kelly Lynn Pasdach
Nichols, Iowa
Kelly Lynn Pasdach, passed away Tuesday, January 23, 2018 at the home of her parents surrounded by her loving family and friends.
Funeral service will be 11:30 A.M. Saturday January 27, 2017 at the Henderson-Barker Funeral Home in West Liberty. Visitation will be held 10 to 11:30, Saturday at the funeral home. Burial will be in Nichols Cemetery, Nichols. Online condolences may be made to the family at www.hendersonbarkerfuneralhome.com. A memorial fund has been established.
Kelly was born October 27, 1969 in Iowa City, Iowa the daughter of Donald and Susan Meyers Pasdach. She was a graduate of West Liberty High School in the Class of 1987. Kelly had been employed with Lowes in Coralville as an appliance sales specialist.
She enjoyed reading and traveling with her friends to New Orleans where she rode the bull.
Survivors include two children: Eric West of Nichols, and Emily West of Iowa City, parents: Susan and Steve Bradish of Nichols, sister: Becky Pasdach of Mephis, TN and brother: Christopher Bradish of Nichols. She is also survived by her lifelong partner Gail West, niece Sakoyha and nephew Donald. She was preceded in death by her father Donald, grandparents: Donald and Marilyn Meyers, Gene and Vinnie Pasdach and the mother of her longtime companion Norma West.