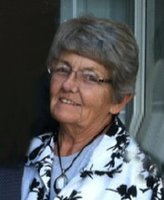 Donna M. Korschgen
West Branch, Iowa
Donna Marie Korschgen, 73, passed away December 27, 2017 at Mercy Hospital in Iowa City from complications of liver disease, surrounded by her family, with Elvis music playing in the background.
Funeral service will be 10 A.M. Tuesday, January 2, 2018 at the Henderson-Barker Funeral Home in West Branch. Visitation will be held Monday, 1 to 4 P.M. at the funeral home. Burial will be in the West Branch Cemetery. Online condolences may be made to the family at www.hendersonbarkerfuneralhome.com. In lieu of flowers, memorial donations may be made to Crestview Care and Rehab Center in West Branch.
Donna was born May 29, 1944 the daughter of Walter and Frances (Dage) Bantz in Independence, Iowa. She was a graduate of Independence High School in the class of 1962 and later received her B.A. from the University of Iowa in Elementary Education. Donna met Melvin E. Korschgen at Joe's Place in Iowa City when they were both students at the university. They later married on July 16, 1966 in Independence.
Donna's first teaching job was in Kalona, Iowa where she taught 2nd and 3rd grade. She took a semester off to help Mel prepare for his one year tour in Vietnam, but returned to teaching in Kalona upon his departure. While Mel was in Vietnam she and her pug, Putsy, made frequent visits to see her sister and family in Villa Park, IL. Upon Mel's return to the United States, they moved to Durham, NH where he completed his service in the US Army. In June 1970, they returned to Iowa and made their home in West Branch. Donna taught 5th and 6th grade in Springdale, Iowa and later taught pre-school at the West Branch United Methodist Church. Donna chose to take time away from work to raise her family, but later returned to work with Dr. Gene Zdrazil and at the West Branch City Office.
She was an avid fan of the Iowa Hawkeyes, New York Yankees (especially Derek Jeter) and Elvis. Most important to her was her family, especially her grandchildren. She loved any and all activities they were involved in, including numerous baseball, basketball, football & soccer games. She was their greatest fan. Donna loved to travel regardless of if it was 30 minutes or 3 days drive away. She was always ready to go!
Survivors include her husband of 51 years, Mel of West Branch; daughter Camille Korschgen of Wichita, KS and her son Owen Korschgen of Manhattan, KS; son Brad (Kerry) Korschgen of West Amana, IA and their children Connor and Kealan Korschgen; daughter Carmen Johnson (Chris Tanner) of Cedar Rapids, IA and their children Gabe and Camden Johnson and Maegan, Ashlenn and Samantha Tanner; sister Glenda (Dick) Burns of Claremont, California, sister-in-law Becky Bantz of Wichita, KS as well as several nieces and nephews. She was preceded in death by her parents, brother Warner Bantz, brother-in-law Jerry Burns and a niece Libby Bantz.
Donna's family would like to extend a special thank you to Dr. Ashby, Dr. Hoffman and all the ICU nurses at Mercy Hospital in Iowa City, as well as all the staff at Crestview Care and Rehab Center in West Branch.