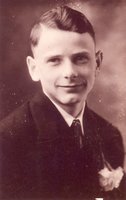 Charles Jacobsen
West Liberty, Iowa
Charles "Chuck" Jacobsen, 94, went to met his Lord Wednesday, December 27, 2017. He was a resident of the Wilton Retirement Community.
Family services will be held at the Henderson-Barker Funeral Home in West Liberty. Online condolences may be made to the family at www.hendersonbarkerfuneralhome.com.
Charles was born March 30, 1923 at his home in Downey, the son of Peter and Anine Miller Jacobsen. He was the oldest child, soon to be followed by a sister Margaret and a brother Donald. He attended West Liberty Schools, enjoyed his school days. He loved to roller skate after school with his classmates. He excelled in math, that would be his pride and joy as an adult. He graduated in 1941.
His first job was at Wilson's meat packing plant in Cedar Rapids. He worked days and spent the week in Cedar Rapids with a roommate, then would head home on the weekends in his Model T. He was united in marriage to Dorothy Edwards in West Branch and together they had two sons Wayne Charles Jacobsen and Lynn John Jacobsen.
Chuck raised hogs and had a large herd of cattle, he was often employed by other farmers to do custom hay bailing. Following his divorce from Dorothy in 1968 his farm and equipment were sold and he moved to town. He became parts manager at the John Deere store in West Liberty with some weeks being 7 days during the busy season. He would be called by phone or doorbell for needed parts during the harvest. He made many new friends and saw many old friends. He later helped Jan McCrabb at her flower shop with deliveries and most recently at the West Liberty State Bank taking care of plants, trees and hedges. He enjoyed being outside during the nice weather and when chilly he would found working inside.
In 1976 he was united in marriage to Judith Mitten Buchanan in Iowa City at the Danforth Chapel and his role of being a step father had many duties. He loved his home, and working on and around it.
He enjoyed roller skating and bowling in his younger years.
Survivors include his wife Judith of West Liberty. Two sons: Wayne (Connie) Jacobsen of Eau Claire, Wisconsin and Lynn (Vicky) Jacobsen of New London, Iowa. Stepchildren: Russell Scott (Melinda) Buchanan of Charlotte Harbor, Florida, Jay Douglas (Lori) Buchanan of Omaha, Nebraska, Philip John (Sharon) Buchanan of Naperville, Illinois, Gregory George (Trinna) Buchanan of Charlotte, North Carolina. 7 grandchildren Victoria, Wendy Sue, Andrew, Mescha, Ginny, Paige and Grant as well as many friends also survive. He was preceded in death by his parents, a sister and brother.