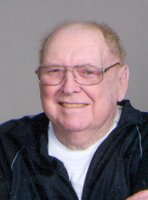 Gayle A. Hollenbeck
Atalissa, Iowa
Gayle A. Hollenbeck, 77, passed away Thursday, December 21, 2017 at his home following a 2 1/2 year battle with cancer.
Funeral mass will be held 10 A.M. Wednesday, December 27, 2017 at St. Joseph Catholic Church in West Liberty. Visitation will be Tuesday from 4 to 7 P.M. in the Parish Life Center at St. Joseph Church (north side of the church, using the East and West doors) with a prayer service to follow at 7 P.M. A memorial fund has been established. Burial with military honors will be in the Nichols Cemetery. The Henderson-Barker Funeral Home in West Liberty is in charge of arrangements. Online condolences may be made to the family at www.hendersonbarkerfuneralhome.com.
Gayle Alfred Hollenbeck was born January 4, 1940 in Muscatine the son of George and Winifred (Wasson) Hollenbeck. He was a graduate of Nichols High School in 1958 and served in the US Navy from 1959-1963. On February 14, 1985 he was united in marriage to Joyce H. Meka Kasper in Las Vegas, Nevada.
Gayle farmed for many years and was an owner/operator delivering John Deere equipment across the United States and Canada, retiring in 2009.
He enjoyed camping, fishing, spending time with his family, working in his shop and loved Pink Panthers. Gayle was a member of St. Joseph Catholic Church, West Liberty.
He is survived by his wife Joyce of Atalissa, son: Jay Hollenbeck of Springfield, Missouri and daughter: Brenda (Dave) James of Fruitland, Iowa. Step children: Deb Carter (Kim Dahlstrom) of Wilton, Dee (Grant) Evans of Solon and Don (Dawn) Kasper of Nichols. Son in law: Mike Cunningham of Iowa City, brother Virgil (Gina) Hollenbeck of Muscatine, sister in law: Delores Kasper of Solon. Grandchildren: Jason, Eric, Adam, Sutton, Olivia, Shawn, Justin, Chase, Josh, LeeAnna, Eric, Blake and 8 1/2 great grandchildren. He was preceded in death by his parents, Brothers: Merle, Leo, Bill, infant sister Francis, son Mitchell Hollenbeck, step daughter Diane Cunningham and brother in law Leroy Kasper.