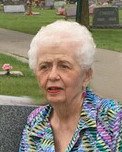 Marilyn J. Irey
West Liberty, Iowa
Marilyn J. Irey, 77, passed away Sunday, December 10, 2017 at her home at Heath Manor in West Liberty.
Family graveside services will be held in the Oak Ridge Cemetery, West Liberty. Memorials may be made to the WL Fire and Rescue Department.
Marilyn was born August 5, 1940 in Iowa City, Iowa, the daughter of Wayne and Margaret Whitacre Irey. She was a graduate of West Liberty High School and the Iowa State Teacher's College in Cedar Falls, Iowa. She was an Elementary School Teacher in the Davenport, DeWitt and Bennett School systems for many years.
Marilyn enjoyed bird watching, collecting stamps, playing cards at Heath Manor and being around children. She always looked forward to church on Sunday's and watching the kids play the bells. She was a member of the First Church United in West Liberty.
She is survived by a first cousin Carolyn Hock of Evergreen, Colorado and several other cousins. Marilyn was preceded in death by her parents.