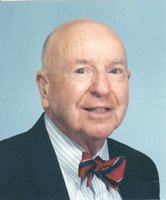 Rodger L. Johnston
West Liberty, Iowa
Rodger L. Johnston, 101, passed away Sunday, December 10, 2017 at the Simpson Memorial Home in West Liberty.
Funeral service will be held 11 A.M. Thursday, December 14, 2017 at the West Liberty United Methodist Church with a Masonic service to follow. Visitation will be Thursday from 9:30 until service time at the church. Burial with military honors will be in the Oak Ridge Cemetery, West Liberty. Memorials may be made to: West Liberty Ministerial Help Fund or Iowa City Hospice.
Rodger Lee Johnston was born on the 28th day of July, 1916 the son of Bonnie Linn and Francis Arthur Johnston. Rodger was a career postal employee and retired as West Liberty Postmaster on February 14, 1975.
He was also a veteran of WWII and the Korean War. Stationed at Hickam Field in Hawaii he was responsible for all postal facilities on the base including an in transit mail warehouse, all mail to and from the mainland passed through this facility of the Pacific Wing of the Air Transport Command, including diplomatic pouches. He was recalled to the Pacific during the Korean War where he was affiliated with the 20th Air Force and stationed at the Kadenz Air Base in Okinawa.
He was active in the Mount Calvary Lodge Number 095 in West Liberty, Iowa, and was a 32° Mason for 71 years. He was also a member of the Kaaba Shrine in Davenport, Iowa, and a member of the Mansell L. Phillips American Legion Post 509 in West Liberty, Iowa.
Rodger was married to Dorothy Sharar on August 30, 1985 and they enjoyed travel to Alaska, the eastern United States, Switzerland, Italy, France, Bavaria, Austria, and St. Petersburg, Russia. They spent winters in Sarasota, Florida and summers on Calhoun Street in West Liberty, directly across from the house in which he was born.
Rodger is survived by his step-daughter, Joyce Sharar-Johnson, step-grandson, Kurt Johnson, step-daughter, Judy Arnold Sharar, and step-granddaughter, Kerrie Sharar.
Rodger was preceded in death by his wife Dorothy Sharar Johnston and step-son, James Sharar.