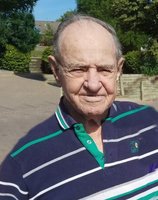 Warren "Jake" Rummells
West Branch, Iowa
Warren "Jake" Rummells, 90, died on Friday December 8, 2017 at the University of Iowa Hospitals and Clinics in Iowa City.
Visitation will be 5 to 7 P.M. December 11, 2017 Monday at the Henderson-Barker Funeral Home in West Branch. . Online condolences can be made to the family at www.hendersonbarkerfuneralhome.com. A memorial fund has been established.
Warren was born the son of C. A. "Stub" and Marjorie Ellyson Rummells on October 2, 1927 in West Branch. He graduated from West Branch High School in 1945 and had served in the U.S. Navy during WWII and the Korean War. He was united in marriage to Mary Lou Reichle, she passed away in 1987 and later married Karen Countryman in 1992.
Jake had worked with his father and became the owner/operator of Jake's DX for many years and farmed part time. He enjoyed playing cards, belonged to bridge and euchre clubs, golfing and taught golf lessons through Kirkwood College and was on a Coralville bowling league. He was a school bus driver for 45 years and with his brother Wayne they also kept the clock for West Branch football games for 45 years. He was a member of the American Legion Post 514.
He is survived by his wife Karen of West Branch, children: Dave (Ira) Rummells of Orlando, FL, Kim (Clint) Grantham of Coralville, Kevin Rummells of Cedar Rapids, Tony (Beckie) Countryman of Tipton, Tracy (Christine) Countryman of Tipton and Tammy Montgomery (Lee Conrad) of Bennett. Grandchildren: Eric and Melissa Rummells, Mitchell Countryman, Matt Lukemyres, Mallorie and Dylan Countryman, Cody Montgomery, Kyle Montgomery and Brooklyn (Justin) Stein. 5 great grandchildren also survive.
He was preceded in death by his parents; wife Mary Lou Rummells, twin brother Wayne, brother: Don, infant daughter Debra and a step son Terry.