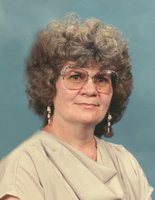 Margaret "Maggie" Christy
West Liberty, Iowa
Margaret "Maggie" Christy, 77, passed away, Monday, December 4, 2017 at the home of her son in Wellman.
Funeral service will be held 10 A.M. Friday, December 8, 2017 at the First Church United in West Liberty. Visitation will be Thursday from 4 to 7 P.M. at the church. The Henderson-Barker Funeral Home in West Liberty is in charge of arrangements. Burial will be in Klein Cemetery, Moscow. Online condolences may be made to the family at www.hendersonbarkerfuneralhome.com. Memorials may be made to First Church United or Iowa Donor Network.
Margaret Loretta Goody was born September 12, 1940 in Iowa City the daughter of Robert and Florence (Grey) Goody. She was the older sister to Karen. They grew up in North English/Holbrook area and went to Hickory Ridge School in Hinkletown and Kinross. After graduating in 1958, Maggie married Charles O'Donnell and had four children: Dennis James (Laurie), Daniel Charles (Wanda), DeAnna Leigh and David Patrick (Dena). She also is survived by many grandchildren and great grandchildren. Years later they divorced and Maggie married Ronald Keith Christy. She was close to Ron's children Pam, Marsha, Rod, Ronda and Mark.
Maggie worked for the University of Iowa Hospitals and Clinics and upon retirement she and Ron enjoyed traveling and wintering in Southern Texas.
Maggie was preceded in death by her husband Ron, first husband Chuck, daughter DeAnna and grandson Matthew.