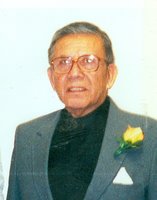 Eduardo Garcia
Muscatine, Iowa
Eduardo G. Garcia, 89, died November 22, 2017 at Pearl Valley Care Center in Muscatine.
Family will greet friends Friday, December 1, 2017 from 5 to 6:30 P.M. in the Parish Life Center at St. Joseph Catholic Church, West Liberty with a memorial service to follow at 6:30 with Bishop Keele officiating. The Henderson-Barker Funeral Home in West Liberty is in charge of arrangements.
Eduardo was born October 13, 1928, in Agua Dulce, Texas to Dario and Luisa Garcia. Eduardo met and married Anita Perez in Cuidad Acuna, Coah. Mexico. They moved to Del Rio, TX and later to West Liberty, IA in 1967 to raise 6 children.
Eduardo worked and retired from Louis Rich after 23 yrs. When Eduardo was not working you would find him working on his rental properties. He was an active member of The Church of Jesus Christ of Latter Day Saints. He took care of his lovely wife Anita until her passing in 2002.
Eduardo Garcia is survived by his brothers Benigno Sr., Candelario, and Mario, his sister Leonor Ledezma, his sons Gerardo(Lisa), Gustavo(Debi), and Dario, his daughters Ana Luisa Polanco, Lucia Garcia, Elsa (Rafael) Ruelas, his wife Elizabeth, 2 step children Brian (Marci) Crawford and Hilary (Chris) Croy. 19 Grandchildren and 25 Great grandchildren.
He was preceeded in death by his lovely wife Anita Perez, daughter Olga, his parents, his brother and his nephew.