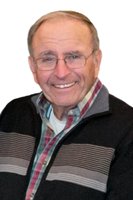 William Presley "Bill" Cline
West Liberty, Iowa
William "Bill" Presley Cline, 84, passed away Sunday, November 12, 2017 at the Lone Tree Care Center.
Funeral services will be held 10 A.M. Monday, November 20, 2017 at the First Church United in West Liberty. Visitation Sunday, 2 to 6 P.M. at the First Church United in West Liberty. Burial with military honors will be in the Oak Ridge Cemetery, West Liberty. Online condolences may be made to the family at www.hendersonbarkerfuneralhome.com. Memorials may be made to: West Liberty Fire Department, Muscatine County Fair Grounds or Mansell Phillips American Legion.
Bill was born November 28, 1932 in Washington, Iowa the son of Hubert D. and Ruby E. Presley Cline. He was a graduate of West Liberty High School in 1950 and attended Kemper Military School in Booneville, Missouri. From 1953 - 1955 he served with the US Army as a Corporal/Drill Sgt. during the Korean Conflict. On June 28, 1955 he was united in marriage to Karen "Kay" Chown at the Christian Church in Nichols.
Bill had worked as a truck driver for several years before joining the family business H.D. Cline Co. in 1959 where he worked the rest of his life. He was a member of the West Liberty Jaycees, Lions Club, served on the West Liberty City Council, was a member of the West Liberty Fire Department for nearly 60 years where he had been Chief for 10 years, Mansell Phillips American Legion Post #509 in West Liberty and an honorary Muscatine County Fair Board member. He had collected antique tractors and also had an antique fire truck.
Survivors include his wife Kay of West Liberty. Three children: Jayne "Jay Dee" (Peter) Kambhu of Iowa City, Mike (Erin) Cline of West Liberty and Fay (Ron Cox) Cline of Atalissa. 11 grandchildren: Jake Cline, Jessie Hall, Chad Phelps, Codi Cox, Brent Phelps, Chris Kambhu, Katy Kambhu, Hailey Cox, Mackenzie Bierman, Noah Bierman and Emily Bierman as well as 8 great grandchildren. Brother Robert (Karel) Cline of West Liberty. He was preceded in death by his parents and an infant daughter Janet Lee.