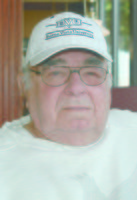 Harlan Conway Ferguson
Johnston, Iowa
Harlan Conway Ferguson, 89, formerly of West Branch,. one of the first Iowa girl's track coaches, passed away on Oct 15, 2017, at University Park Nursing and Rehabilitation Center in Des Moines.
Funeral service will be held 11 A.M. Friday, October 20, 2017 at the Henderson-Barker Funeral Home in West Branch. Visitation will be 4 to 7 P.M. Thursday at the funeral home. A memorial fund has been established. Online condolences may be made to the family at www.hendersonbarkerfuneralhome.com.
He was born on May 2, 1928 near Laurens, IA. He attended country school and later graduated from Laurens High School in 1946. After graduation he was drafted into the US Army where he served in Germany during the Korean War. In 1953 he married Myrna Joenks, on Feb 15th.
He attended NW Missouri State, Buena Vista College graduating in 1959 earning is BA in Education.
Later he attended Drake University where he received his Masters in Education. He also received his Special Education Degree from University of South Dakota.
While attending Drake University he worked for the Iowa Girl's High School Athletic Union. When he was working for the Union he was one of the coach's for the Iowa Federated teams which competed throughout the country. He taught Physical Education, was the Athletic Director and coached at many schools in Iowa including, Manilla, Missouri Valley, Eagle Grove, he taught Special Education in Le Mars.
During the summers in Le Mars he worked for the Iowa Conservation Corp, helping the county young people improve the county fair grounds and many other sites.
Having done it for 46 years, he enjoyed coaching girls track along with many other sports. He was inducted in the National Girl's High School Coaches Hall of Fame and was recognized numerous other times for his achievements throughout various communities. He also enjoyed woodworking, mentoring and coaching his students. He was an avid fan of the Iowa Hawkeyes, Green Bay Packers, and St Louis Cardinals. He was a 50 year member of the Masonic Lodge and a 32nd Degree member of the Freemasons
Harlan is survived by his wife of 64 years, Myrna (Joenks), 3 children, Curtis (Lori) Ferguson of Ankeny IA, Candra (Carroll) Smith of Thornton CO, Colleen (Frank) Eyre of Cedaredge, CO, 6 grandchildren and 2 great-granddaughters. He is also survived by 1 sister Marlene (Art) Umbrell of Laurens, IA, 2 brothers, Gerald (Sylvia) Ferguson of Tipton, IA, Dell (Trudy) Ferguson, of Tyler, TX, sister-in-law: Lois (Gary) Grave of Redwood Falls, MN, brother-in-law: John (Karol) Joenks of Knoxville, Iowa and several nieces and nephews.
Harlan was preceded in death by his parents Gerald and Lois Ferguson, 1 sister Sharon Bruechert, mother and father-in law Harold and Blanche Joenks, 1 brother-in law and sister-in-law, Frank and Rita Joenks.
RUN FAST AND TURN LEFT would be heard by his track teams, track having been his first love as Myrna would say.