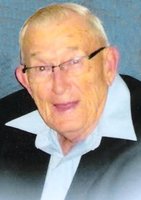 Maynard Suchomel
Solon, Iowa
Maynard Suchomel, 88 of Loveland, CO and formerly of Solon died Saturday, September 16, 2017 at Loveland Good Samaritan Village.
He was born on December 23, 1928 in Solon, IA and spent his early years farming.
He married Marilyn Anderson on August 24, 1950 in Solon, IA. They moved to Loveland in 1956. Maynard and Marilyn then opened and operated The Outdoor Shop and later started Mountain Ski Rental. They retired in 1996 and Maynard was then able to spend time on his lifelong passion of gardening. He enjoyed sharing his produce with his friends, family and neighbors.
Maynard was a lifelong member of the Elks.
Maynard is survived by his wife of 67 years, Marilyn, his sister Dorothy Fishback and husband Lee, and many nieces and nephews.
A Funeral Mass will be held at St. John the Evangelist Catholic Church in Loveland on Wednesday, September 20, 2017 at 10:00 a.m. Visitation will be held prior to the Mass. Burial Services will take place on Friday, September 22, 2017 at 10:30 a.m. at St. Bridget's Cemetery at Nolan Settlement, rural Solon, IA.
In lieu of flowers, memorial contributions may be made to Pathways Hospice or Friends of St. Bridget's, in care of Henderson-Barker Funeral Home in West Branch. Online condolences may be made to the family at www.hendersonbarkerfuneralhome.com.